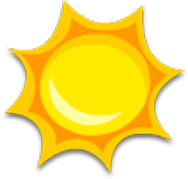 MORE FOR YOUR PARTY!
Spongebob Squarepants /
$75 / 30 minutes
Arrives to the Spongebob theme song!
Performs to several other interactive songs
Goody bag and balloons for the birthday boy or girl
Superior quality costume - looks exactly like Spongebob!
Elmo Balloon-A-Gram Meet & Greet /
$55 to $75 / 30 minutes
Meet with all your party guests
Includes single or group photos
Interactive songs upon request
Birthday child gets an Elmo bouquet (5 mylar balloons w/ Elmo balloon weight)
Prize Wheel /
$8
Write-on dry erase wheel
One dry erase marker included
24" diameter - 26" tall
Create your own prize giveaway or triva games; the possibilities are endless!
Bubble Machine /
$5
Thousands of streaming bubbles!
Adapter included
Bubble solution not included
Create a fun and lively ambience with bubbles!
Large Parachute /
$7
12 feet in diameter!
12 handles - great for big parties
Big, bright, and colorful
Comes with an assortment of mini beach balls!
Face Paint Stamp Kit /
$7
12 stamps - 4 different shapes
Variety of paint colors to choose from
Paint included!
Create perfect flowers, hearts, stars, & butterflies neatly and easily!